Brass Irrigation Pressure Reducing Valve is one of our most popular control valves enabling safe reducing of pressure. Suitable for air and water use. The valve reduces upstream pressure to maintain a steady state of pressure downstream regardless of flow or fluctuating demand.
Features:
Compensated Piston Operation
Female/female threads
Body in antidezincification brass
Factory preadjustment 4 bar
Maximum inlet pressure: 25 bar
Outlet Pressure range of between 1 & 5.5 bar
Temperature range of 0*C to +80*C
Air & Water Suitable
Watermarked approved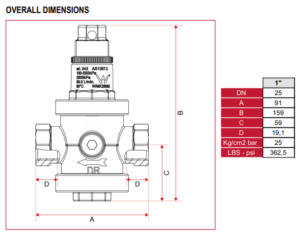 Warranty
All products are covered by the full manufacturer's warranty of 2 years. Should you have an item that is faulty we are happy to replace with a new one. Please contact us with details and/or photos of the fault as well as your contact details so we can discuss the issue and organise a replacement at our cost, or if you prefer we can provide a full refund. In some cases, we may request the item be returned to us depending on the issue.