Features:
Materials: Polypropylene
StandardsMark and WaterMark approved
Made in Australia (Certified Australian Standard)
20 Years warranty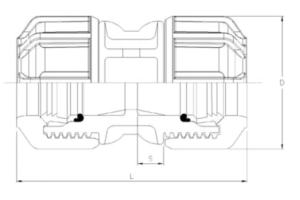 Dimensions mm.
kg.
Size
S
D
L
Wt
16 x 16
9
40
76
0.03
20 x 20
10
47
90
0.08
25 x 25
11
55
97
0.12
32 x 32
14
67
118
0.2
40 x 40
18
81
136
0.33
50 x 50
24
94
161
0.52
63 x 63
29
110
182
0.76
PHILMAC 3G® Metric Fittings Benefits
No loose components: Grip ring and seal remain captive in the body when the nut is removed.
Interchangeability: Rural, Safelok® and 3G® Metric components are all interchangeable as they share a common body.
Made from Advanced Materials: The fitting is manufactured from lightweight, high-performance thermoplastic materials with outstanding impact, UV and corrosion resistance. The materials used are non-toxic and taint-free.
Slide and Tighten™: Incorporating all the benefits of Slide and Tighten™ technology with 100% positive feedback.
Disassembly: The fitting has been designed so the grip ring is released as the nut is backed off, enabling the pipe to be simply pulled out of the fitting.
Compact Size: The size of Metric fittings has been kept to a minimum making this fitting ideal to use in compact spaces.
Minimal pipe twist: The fitting is designed to minimise pipe twist, reducing the risk of loosening joints.
Visual stop: The flange on the body of the fitting acts as a visual cue to indicate when the nut is fully tightened. Once the nut touches the flange on the body, the fitting is in a fully tightened state.
Warranty
All products are covered by the full manufacturer's warranty of 20 years. Should you have an item that is faulty we are happy to replace with a new one. Please contact us with details and/or photos of the fault as well as your contact details so we can discuss the issue and organise a replacement at our cost, or if you prefer we can provide a full refund. In some cases, we may request the item be returned to us depending on the issue.