ALDERDICE Float With Stem
2 floats required for ALDERDICE Floating Foot Valve
1 float required for ALDERDICE Clear Float Valve
Comes in sizes 180mm (7″) and 230mm (9″)
PLEASE NOTE: If you would like a chain operated valve, please send an enquiry through our contact us page and we will endeavour to get back to you as soon as possible.
Download the Ald-Clear Float Valve Flow Rate Charts here.
Illustration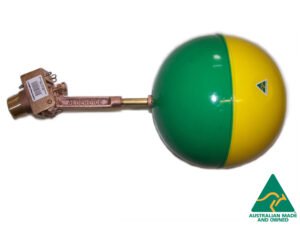 Warranty
All products are covered by the full manufacturer's warranty of 2 years. Should you have an item that is faulty we are happy to replace with a new one. Please contact us with details and/or photos of the fault as well as your contact details so we can discuss the issue and organise a replacement at our cost, or if you prefer we can provide a full refund. In some cases, we may request the item be returned to us depending on the issue.